Want a holiday by the beach, but also has the possibilities of nightlife and multiple restaurant options? A new study from Compare the Market reveals the best destinations for combining a city break with a beach holiday.
The research analysed 35 different coastal cities around the world on 8 different factors including the number of beaches, restaurants & things to do, the average annual temperature, rainfall and sea temperature, Instagram ability and safety.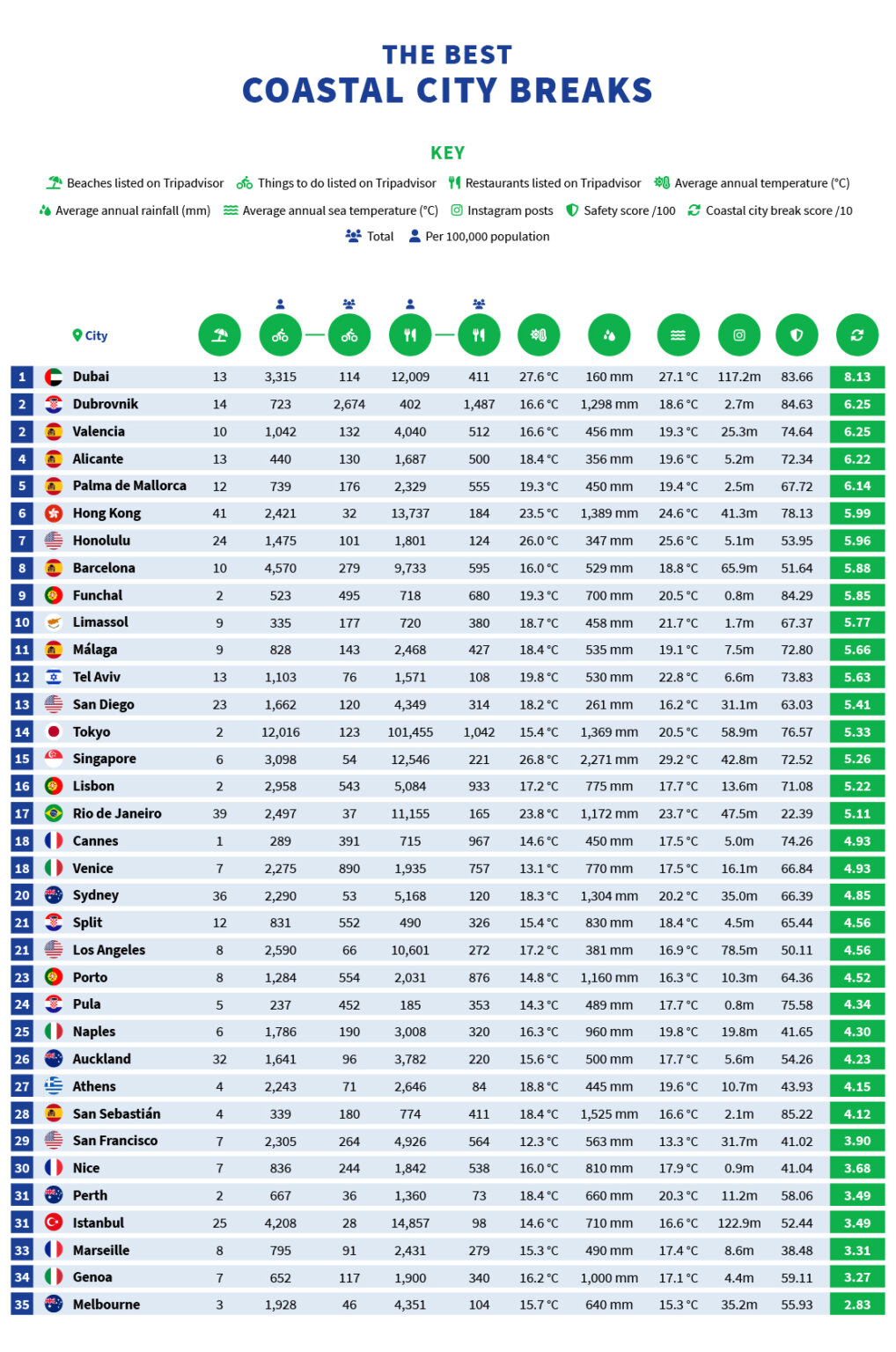 Top 6 best destinations for a coastal city break
1. Dubai is the best destination to visit for a coastal city break
The city in the UAE is home to a number of five-star hotels, many of which have their own beaches. The average annual temperature reaches around 27.6°C and the average annual rainfall is only 160 mm, ideal for sun worshippers. Check out some of Dubai's best boat tours!
2. The second-best destination for a coastal city break is Dubrovnik
A small city on the coast of Croatia, surrounded by the Adriatic Sea. The city is deemed a UNESCO World Heritage Site due to its outstanding mediaeval architecture and fortified old town. The city is also the top-ranking for the number of things to see and do, as well as the number of restaurants available.
3. Tying in second place with Dubrovnik is Valencia, located in Spain
Valencia is Spain's third-largest city and lies on the south-eastern coast of the country. The city is best known for its stretches of golden sand and is home to attractions such as a planetarium, oceanarium and interactive museum.
4. The best coastal city break for beaches is Hong Kong
While the city might be better known for its towering skyscrapers and as a financial centre, it also has many great beaches to enjoy, with 41 in total listed on TripAdvisor. Second in the rankings is Rio de Janeiro, Brazil with a total of 39 beaches.
5. The most Instagram able coastal city break is Istanbul
With over 120 million posts on Instagram mentioning the city in their hashtags. Ranking in second is Dubai, in UAE with just under 120 million.
6. The safest coastal city break is San Sebastián
Spain, with a safety score of 85.22/100, followed in close second by Dubrovnik, Croatia, with a score of 84.63.
Now that the world is opening again, the concept of a city and beach holiday is more appealing than ever. As endless amounts of holidays have been missed, it is time to make up for the lost time. However, as more people are wanting to travel and the uncertainty of flights is still so common for cancelled. It's important to insure your holidays, so you don't lose any time, money or items. Not only can this protect you against unexpected events, but it can be a lifesaver in the event of illness or injuries. Make sure you read into your policies before you purchase to ensure you have the right protection for your holiday needs.